WinPicks Pro Football Analyst
Pro Football Analyst is enhanced, updated, and ready to beat the point spread during the 2019-2020 NFL seasons. Its huge database covers 35 seasons and contains the stats, scores, and odds from more than 8,600 games.
Imagine having up to the minute statistics for every NFL team. Accurate predictions for every game. The ability to analyze matchups and uncover trends. You don't have to imagine. WinPicks, the Pro Football Analyst is a powerful software package that can do all this and more.
WinPicks is the king of pro football handicapping software, a carefully crafted product that has been refined for more than 25 years. You can spend more, but you won't find better handicapping software anywhere. WinPicks provides everything you need to be a winner.
Huge Stat/Trend Database
WinPicks includes a comprehensive database that tracks every NFL team in 32 offensive and defensive categories. During the season, database updates are fast, easy, automatic, and FREE. The database is updated automatically through your Internet connection. After connecting to the Internet, just click on the WinPicks toolbar to instantly get the latest files. If you forget to update your database, WinPicks will remind you.
Every handicapper knows that the trend is your friend, and WinPicks can quickly show you how any team has performed in a variety of situations. Want to know how Denver has done against the spread as a home underdog? As a road favorite? On artificial turf? In domed stadiums? After a victory? Against good teams and bad teams? In the playoffs? On Monday Night? After winning by more than 17 points? In the first 5 weeks of the season? After 3 consecutive losses? After 5 consecutive victories? If you can think of an angle, ANY ANGLE, WinPicks can check it out for you. No other product gives you the answers faster or easier than WinPicks. You can also use the powerful Situation Analysis feature to instantly see all of the trends that could influence a specific game.
Of course, one problem with trends is that by the time you know about them, it's sometimes too late. WinPicks solves that problem with the amazing Trend Watch feature, which goes one step beyond all available trend engines by searching through multiple combinations of game conditions to find significant trend patterns in the database. It quickly searches though literally millions of possible trends, and extracts only those that are statistically significant. Because Trend Watch does an exhaustive search of all available data, it uncovers information that only WinPicks users have. You can't get information like this anywhere else, no matter how much you are willing to pay. And best of all, Trend Watch alerts you when the trends it finds are relevant to games yet to be played. If you have favorite trends that you want to follow week after week, you can save them using the powerful My Trends feature.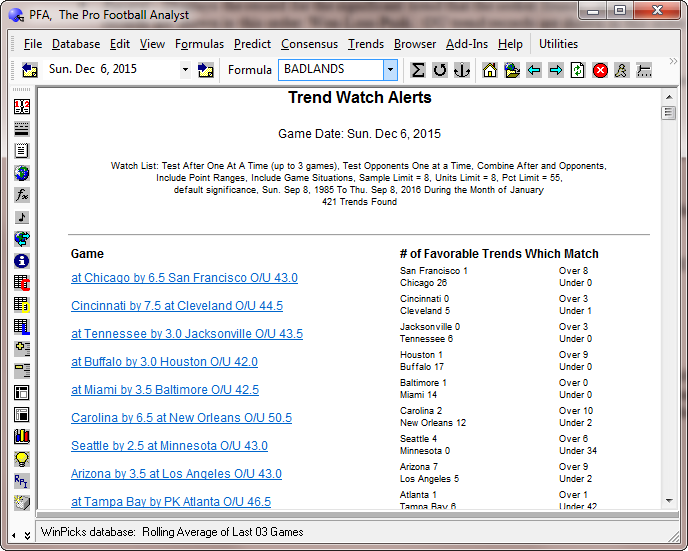 WinPicks provides tons of data the average handicapper simply doesn't have. For example, you can look at power ratings over any interval ranging from three games to more than one season. You can instantly see which teams have played the toughest schedules. You can see which teams have the best turnover ratios, or have the best average for "points per 100 yards". You can also look at league trends like how often NFL home teams cover on Monday night, or how often home teams cover in all games. All data can be printed out using a powerful report generator that produces professional looking, business quality reports.
Powerful Handicapper
WinPicks is unmatched as a handicapping tool. It uses prediction formulas to predict the winner of every game and to recommend picks against the point spread. Four proven formulas are included with WinPicks. Each of them picked better than 60% against the spread last season. However, you aren't forced to use one of these formulas. You can create new formulas and use any handicapping method you can think of.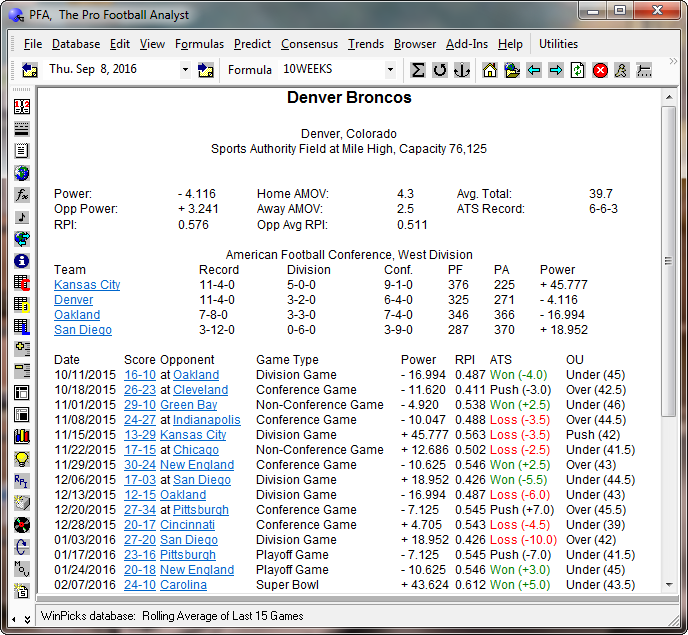 Creating new formulas is easy. You simply assign a weight to each statistic that you want to use. You can save the formula when the sum of the weighting factors equals 100%. Or, create winning formulas automatically with the built-in SureLock Formula Wizard. WinPicks can quickly analyze your formula by showing you its straight-up, against the spread, and against the totals record, plus the number of net units the formula has won or lost. This lets you see how well a formula works before you start using it. You can even test formulas using all available database. For example, does a formula work best with using all of the stats from the current season, or with a 3-game rolling average. WinPicks can quickly provide the answer!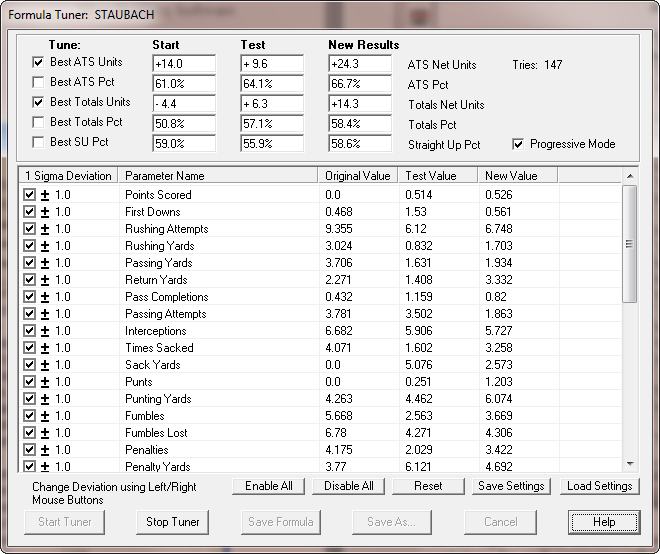 If you need to tune up a formula, the incredible Formula Tuner uses a Monte Carlo technique that randomly varies the numbers, testing the results along the way. When a finds a better result, it remembers the new formula values, and continues to run with new random variations. The Formula Tuner runs continuously under your control, letting you tune a formula for a few minutes or overnight. The longer the tuner runs, the more likely the results will improve. In other words, the Formula Tuner can start with any formula, and in nearly all cases produce a better one. You can tune formulas to produce against the spread winners, against the totals winners, or straight-up winners. Some of the results we have seen are absolutely phenomenal. Formulas that formerly lost units have been tuned until they now produce more than 100 net units in a single season!
NightShift enhances the Formula Tuner by letting it run until you get the results you desire. NightShift is like a tireless worker who will tweak your formulas as long as you'd like, always squeezing out a higher winning percentage and more net units. It tunes as many formulas as you want for as long as you want. If you now pay a sports service, then it's time to stop throwing your money away. NightShift works for free and puts every tout's record to shame!
To use NightShift, just tell it how long you'd like to work on a formula. You can specify the number of tries or the number of minutes that you want the tuner to run, or you can even tell NightShift to run until the formula is up a given number of net units. You don't even have to be around while NightShift works its magic. Leave NightShift running when you go to bed and wake up the next morning with a formula that will blow your bookie's mind!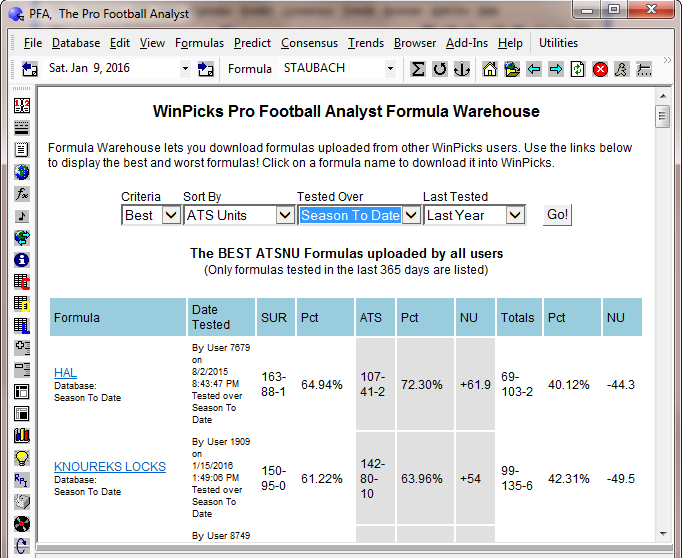 If you have a hot formula that you want to share with someone else, or if you want to check out the hot formulas created by other users, then simply visit the Formula Warehouse. With just one click, you can upload a formula and make it available to all other users of WinPicks. With one more click, you can download a formula. And best of all, all formulas in the Formula Warehouse have been already been tested, so you'll know their winning percentage before you download them. The Formula Warehouse harnesses the power of the Internet and the handicapping expertise of all WinPicks users to make it easier than ever to beat the book!
In addition to recommending picks against the spread, WinPicks predicts the point total of every game (the over/under). It also produces a handy weekly prediction report you can use to enter your office pool.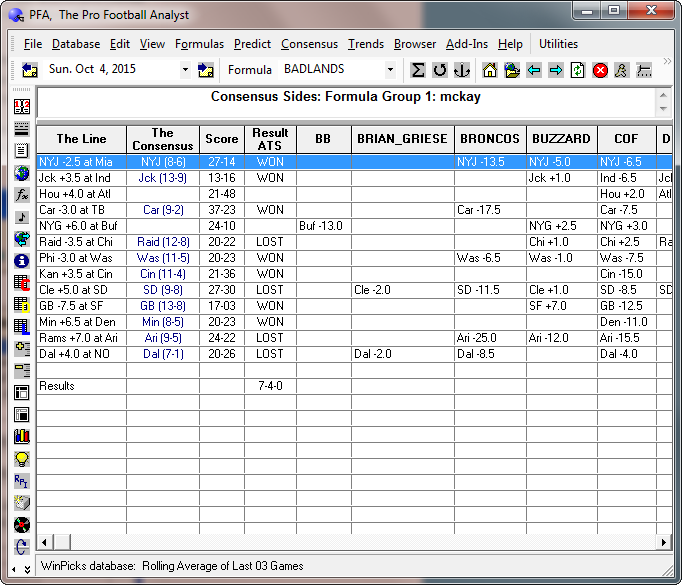 WinPicks even allows you to run multiple formulas at one time. If you use multiple formulas, WinPicks will only recommend games where all of the formulas (or a majority) agree on the outcome. A formula consensus can produce incredible results, often much higher than 60% against the spread! You have the option of using every formula on your system in a consensus, or selecting a custom group of formulas to use.
Powerful Graphics Engine
WinPicks has a powerful graphics engine that makes statistics come to life! WinPicks produces two or three dimensional bar charts, line charts, area charts, or pie charts of each team's data. You can jump back and forth between graphical and tabular data. WinPicks also produces charts that show how a team's power ranking has gone up or down over the course of the season. This shows you who's hot and who's not, an essential piece of handicapping data. Plus, WinPicks produces Detailed Prediction Graphs for every game that show how the teams match up in every statistical category.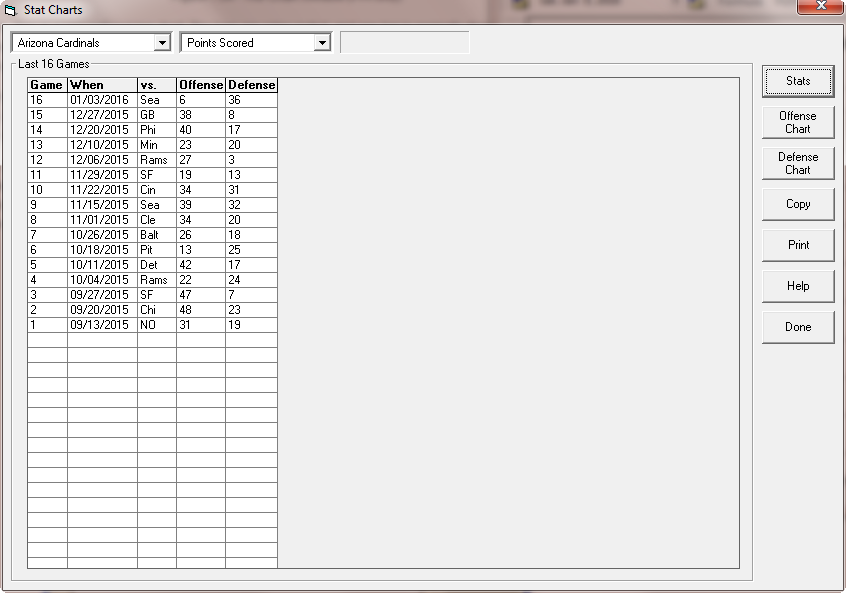 Still not convinced? Check out this feature list and compare it to any handicapping product, at any price:
Professional quality user interface with unmatched ease of use. Looks, feels, and performs like a serious business application, not like a toy. You can even customize the interface, and add and remove icons from the toolbar.


Built-in 2018-2019 NFL Schedule.


All the schedules, scores, stats, point spreads, totals and standings from every NFL season from 1985 to the present, including every boxscore from every game, both regular season and playoffs. That's 34 full seasons of data, including more than 8,600 NFL games.


FREE statistic updates during the season. Your database is updated instantly through your Internet connection.


Ability to track up to four sets of lines. This is a great feature for the serious handicapper who wagers at more than one sportsbook.


All NFL teams ranked in 32 offensive and 32 defensive categories.


User-Defined Prediction Formulas.


Create new formulas automatically with the SureLock Formula Wizard.


Analyze any formula's performance: straight-up, against the spread, or against the totals line.


Share formulas with the entire WinPicks community by accessing the FORMULA WAREHOUSE.


Tune formulas until they produce incredible results using the FORMULA TUNER. Run the FORMULA TUNER overnight or even longer using NIGHTSHIFT.


Analyze multiple prediction formulas at once using the exclusive Formula Consensus feature. WinPicks can recommend picks when all of the formulas you select agree, or when a majority of the selected formulas agree.


Produces power ratings based on the prediction formula in use, or based on the Rating Percentage Index (RPI).


Produces power rating graphs that shows how a team's performance has changed over the course of the season.


Ability to handicap using a rolling average, a season-to-date, or a fixed-to-date database.


Powerful report generator produces business-quality reports.


Powerful graphics engine produces bar, line, and pie charts of just about every kind of data.


Huge trends database lets you analyze games from every conceivable angle.


The amazing TREND WATCH alerts you to statistically significant trends before the games are played!


SITUATION ANALYSIS screen shows you all the trends that relate to a given game. KEY TRENDS report shows you all of the relevant trends for today's games.


Store all of your favorite trends using the MY TRENDS feature.


Displays the name, location, type, playing surface, and seating capacity of every NFL stadium.


POOL PICKS feature helps you win your office pool.


Produces a PLATINUM PAGE for every game. This page summarizes valuable game data, makes recommendations, and rates the strength of the play. You can analyze the past winning percentage of the Platinum Picks.


Built-in Web Browser with links to the on-line manual and to maintenance releases, if they are necessary.


Team and game data can be exported to Microsoft Excel, or to a comma-separated value (CSV) file, for importation into any spreadsheet or database. The data files alone are worth more than the price of the software.


FREE Technical Support from MicroBrothers.


Illustrated on-line reference manual. You can view the manual using your browser or access the entire manual using the on-line help function included with WinPicks. We also supply a PDF manual that is suitable for printing.


The Bottom Line
If you're a fan who likes stats and trend data, you'll love WinPicks. And if you wager on NFL games, WinPicks could be the best investment you've ever made. Don't gamble on your software. Go with a proven winner: WinPicks: the Pro Football Analyst.

Requires Microsoft Windows (XP, Vista, or Windows 7/8/10). $125.00
Order