SureLock, the Formula Wizard for Pro Football Analyst
SureLock was once an optional add-on to our Pro Football Analyst software, but it is now included at no extra charge. The reason was simple, no pro football handicapper should be without it! Even if you "don't have a clue" about how to beat the point spread, SureLock will do it for you. It uses a sophisticated mathematical model to automatically design prediction formulas that beat the spread.
Like the fictional detective Sherlock Holmes, all handicappers should prefer logic to guesswork. SureLock eliminates the guesswork from creating prediction formulas by finding the important statistics, those with the highest correlation to the actual point spread results.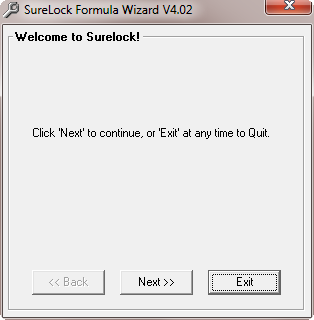 Every successful handicapper knows that no single formula or system will beat the point spread every year. A method that hit 65% last year may hit 45% this year. The game constantly changes and to keep winning, you have to constantly change by utilizing the most recent information. SureLock makes it easy to keep winning consistently, year after year. It analyzes the most recent data available, and produces new formulas that beat the spread.
SureLock is the result of some of the most extensive research ever conducted in the sports handicapping field. We designed SureLock using a powerful multiple linear regression technique that allows it to build prediction formulas using as many as 10 different statistics. This technique finds the statistics that have the largest impact on the outcome of NFL games and correlates them to the point spread. SureLock allows you to update your formulas all season long with the latest data available so you can stay ahead of the game and keep on winning.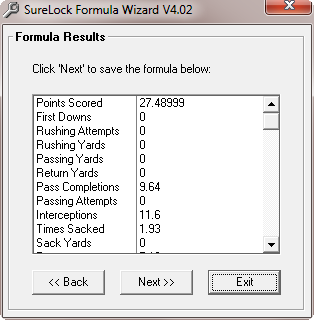 SureLock can optimize winning formulas for totals (over/unders) or point spread wagering (sides). Just select the type of formula you want and SureLock will build it.
Beating the point spread consistently requires every available "edge". The powerful combination of SureLock and Pro Football Analyst will give you the winner's edge against the NFL point spread.