WinPicks Reference Manual
Section 8.17. Line Shifter
Predictions formulas recommend picks that fall within the betting window. The betting window is the difference between the point spread or total predicted by the formula, and the actual line or totals line. When the line moves, a formula might drop or add picks from its list of recommendations. If the pick is on the edge of the betting window, a line move as small as 1/2 point can cause this to happen.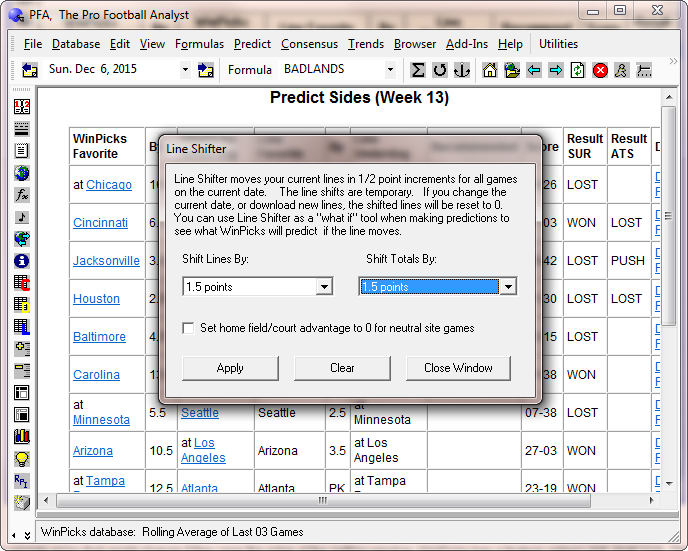 Figure 8.170 - Line Shifter (PFA)
To validate picks that might change if they near the edge of the betting window, WinPicks has a feature called LINE SHIFTER. This feature allows you to shift all of the lines for the current date to see what happens to the picks when the line moves. To use this feature, select LINE SHIFTER from the FILE menu. A window appears as shown in Figure 8.170. Use the menus to shift either the line or the totals line by any amount up to 10 points in 1/2 point increments. Check the box in the window if you want the home field/home court advantage to be set to 0 for games played at a neutral site. Click the "Apply" button to see how your picks change. Click the "Clear" button to return to the original lines.